Orders over $50, Use Discount code "free shipping"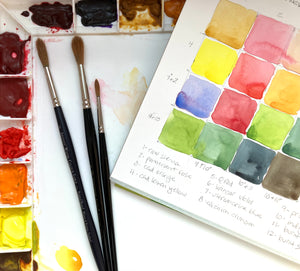 Celebrating 30 Years Painting Cards
In gratitude to my customers, all cards, bookmarks, and notepaper are 50% off.
Use code "30YRS" at checkout to get 50% discount.
Sale ends December 31, 2023.
I am clearing my shelves for a new seasonal store in 2024 that will feature limited editions of new card designs and my annual easel calendar.

About Martha
Martha has been painting since she was old enough to paint a portrait of her teddy bear, but picking up a paint brush was only something she did on holidays. In 1999, she left the Smithsonian Institution to create a line of watercolour cards that combines her passion for gardens with her love of watercolour.
"The garden has been part of my life since I followed my father's long legs down rows of freshly turned Pennsylvania soil planting seeds that grew into my favorites — dramatic six-foot sunflowers. Wherever I have lived, the need to plant and watch things grow has been irresistible. When I was at home busy with small children, I discovered I could dig and weed while the children played."
"During those years of growing gardens and children, I discovered another gift of the garden — peace of mind. The work of the garden was totally absorbing. Being outside in the welcoming morning sun, damp grey mist or lavender dusk, no matter when I worked, the tangles of my mind loosened.
My children are grown, but the gifts of the garden continue – ever changing. Gardens and nature's wild places have become my muse and are the inspiration for this collection of cards, bookmarks, and banners.